Google Search
Show Posts
This section allows you to view all posts made by this member. Note that you can only see posts made in areas you currently have access to.
Messages - tfaithemummy
Pages: [1]
1
« on: January 07, 2011, 09:37:55 AM »
i have to lost my arabic language
is there anyway to fix that....(sorry out of topic just give me link..)
2
« on: January 07, 2011, 06:59:43 AM »
there is no realised patches for your firmware yet.

there are russian firmware available coz the patcher are russian too right and almost off theme ...
maybe some of u r russian please make a request for me to make a patch for my firmware........
pleaaaaaaaaaaaaasseee
3
« on: January 05, 2011, 04:18:15 AM »
you can create apps_patch.bin for all firmwares if you have apps_compresed.bin from any firmware wich you have.
but it useless if that firmware dont have a patches

woaahhh I see...
so i must have the patches..........
OK thanks now Ill go surf to find the patchs for my firmware....
n thanks..
4
« on: January 04, 2011, 11:00:57 PM »
one important question...
is it available for any firmware or its just for current patched firmware....
in example ist available for JPIK5 or JPIK9 or ist only for MXEIL2???
please help me coz I really want to patch my pone and its JPIK5
5
« on: January 02, 2011, 08:58:57 AM »
I really need it so bad
thanks alot
6
« on: January 02, 2011, 07:02:28 AM »
its just an update................
you have to download all file
Panonhideung 1.02
above
1. replace gadget.swf file in res folder
2. put viz folder in res folder
3 restart your phone!!!
thanks!!!!!!!!!!!!!!!!!!!!!!!!!!!!
keeep share !!!
link
http://www.megaupload.com/?d=CL0T89F1
or
http://www.mediafire.com/?ay43zznrp51wkhr
7
« on: January 01, 2011, 02:03:09 PM »
releaseDate
: 01 - 01 - 2011
THANKS FOR EVERYONE WHO WASTED THEIR TIME TO SHARE KNOWLEDGE !!!!!!!!!!!!!!!!!
THIS PRESENT FROM ME FOR YOU ALL!!!! HAPPY NEW YEAR 2011 MAY THIS YEAR WILL BE BETTER THAN BEFORE
this theme may have a minor bug.
and slight down at first glance
to configure top5 contact just change the names in config folder
and the photos in contacts folder with the same order.
and i've put flags stock for travel clock to suit your contry;
USE AND PLEASE RATE IT ABOVE!!!!!!!!!!
LINK
http://www.megaupload.com/?d=5JN5BJUD
or
http://www.mediafire.com/?5a4p91kd7u89y72
feedBack !!!!!!!!!!
http://darkforestgroup.com/starmod/index.php?topic=841.0
PS. for admin : Please no Mirror if somebody unable to download it, just PM me Ill send him a link
8
« on: October 20, 2010, 04:32:20 AM »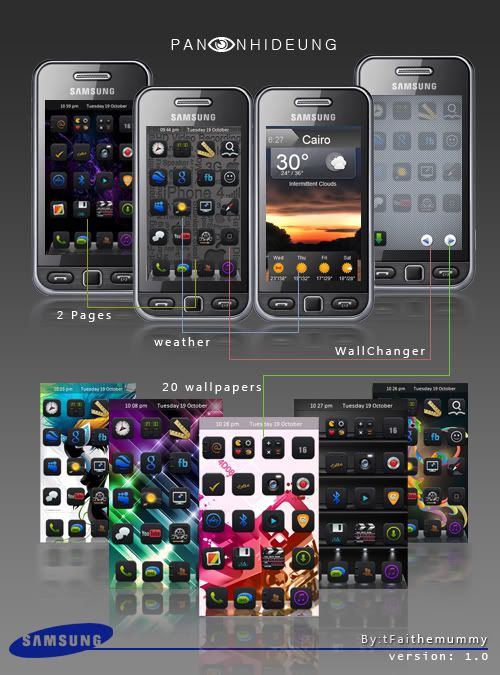 this is my first menu i've made
hope you guys like it...
info:
date release :
20.10.2010 (perfect date)
credit :
i don't take any credit for icons and wallpapers (just found from uncle Google)
some script are taken form Nevia bio, Star HTC Hero n iRevo thanks for the makers....
link
http://ul.to/7uksyl
feedback and question in right section please!!!!
Pages: [1]
Chat