Google Search
Show Posts
This section allows you to view all posts made by this member. Note that you can only see posts made in areas you currently have access to.
Topics - vin_ishere
Pages: [1]
1
« on: March 24, 2012, 06:03:49 AM »
Hello Friends!!
Thats another theme edited by me to work with s5560. Originally download from star.keeg.ru in russian language.
Menu is not complete but works fine for most tasks.
Here are the screenshots:-
1. Gadget (loads default wallpaper)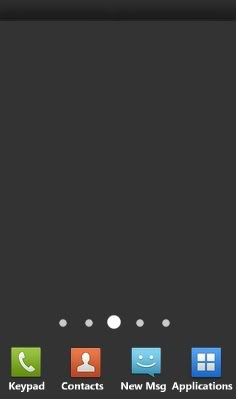 2. Menu (loads Fondo.jpg stored in Res folder)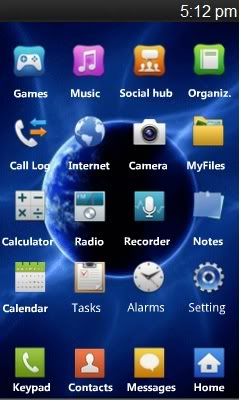 Enjoy!!
2
« on: January 31, 2012, 12:38:26 AM »
Hi all,
Thats compilation of all available patches till 30/01/2012 and includes newly released GadgetAddFsCommand patch and FastMenu patch (copy attached TaskBox.swf file in Res folder, works when you hold center key and then release it).
Will add detailed description afterwards.
PS:- English version of TaskBox is now attached below (translated by Samnta Sync - huge thanks to him
.
3
« on: January 28, 2012, 10:54:32 AM »
Hi all,
Thats compilation of all available patches till 28/01/2012 and includes newly released GadgetAddFsCommand patch. Will add detailed description afterwards
4
« on: June 05, 2011, 10:30:57 AM »
Author: Could not find (found in Galaxy Extreme beta 1.1)
Editing: vin_ishere (added few new icons, changed scripts, replaced existing icons with good quality icons, etc.)
Here is a new fully working menu for s5560. Don't know the original author for this s5230 menu which I have transformed so anyone giving his name is welcome.
PS: Create "Menuwallpapers" folder under "Res" folder and copy wallpapers of your choice into it and rename them as 1,2.... upto maximum possible of 6.
Thanks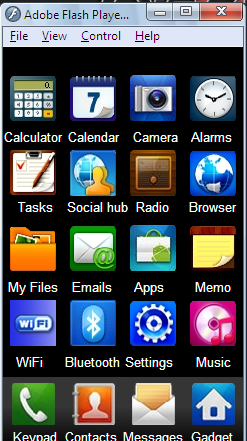 5
« on: April 25, 2011, 04:03:55 AM »
Hi everyone!!
Some new pathces are attached with this post. If you have already patched your phone then you will only need to flash with the .rc2 file provided.
A brief description of the included patches:-
1. ChangeJava MMC - The patch changes the path of saving and loading java. After its activation, new applications are stored on the memory card into the folder "Java" (in the root folder, create Java ). Since the list of applications is formed again, when you restart the phone, sorted by date to create a folder, delete all previously installed before the patch is not needed. All of Java will be available in the decontamination of the patch. In other words, you have two lists of applications, switch between them by rebooting the phone and changes the state of the patch. The first list is a standard place in the phone, and a second memory card.
2. Calculator - Now you can replace the standard calculator, and now he will lie in the memory card in a folder named Res calculator.swf
3. ChangeJPatch - The patch changes the location kjxdispatch.ini in the directory / Media / Res /, kjxdispatch.ini rename to JPatch.ini
4. ChangeSwf ver 1.0 - Changes the location of Gadget.swf and Menu.swf to Res folder inside phone memory.
5. ColorTbl - Loads the color of the file / Media / Res / Color.bin
6. DeleteInputLang - The patch removes the unnecessary (in my opinion) the items from the language selection menu when entering text. So now there is no need for English to get into the end of the list.
7. FlashPlayer - The patch changes the path to the flash drive Help.swf on Media / Res / Flash / (if anything, this folder in the phone memory) and renames it FlashPlayer.swf. Inside folder Res throw games with names 1.swf, 2.swf, 3.swf etc. to 14.swf with a resolution of not more than 600 * 430.
8. Font - The patch changes the Font folder location on the Media / Res / Font. To install a font, copy it 2 times, call the following names:
a) Cool50_Dial.ttf
b) CoolM_EUCJK.ttf
9. GoogleToOpera - The patch changes the name and the classes of Google Maps with Opera Mini. Necessary for desktops.
10. MasterPatch - Required to run other patches.
11. MegaOnOff - Instantantly on and off your phone. Now phone starts in 6 seconds instead of 15, and switched off in 3 seconds instead of 8!
12. PowerSavMode - The patch removes the restrictions on the use of phone features in economy mode (low battery).
13. SaveCallLog - Now, the call log is not cleared after changing sim card and in a mode without a SIM card.
14. ScreenShot - The patch allows you to take screenshots of your phone screen. Activates the command AT + SUBLCD a modem port. Screenshot is saved in a folder / Media / Other files / scr.bin.
15. VibOnCall - For outgoing calls, at the time of lifting the handset, the phone delivers the vibrator (not to constantly look at your phone screen).
16. VideoSizeLarge - Now phone can play video with resolution of 400x240.
17. Myfiles - Patch derives from the directory I've found MyFiles.swf Phone / Res / MyFiles.swf, and it WORKS !
------------------------------------------------------------------------------------------------------------------------------------------
PS - Finding it a bit new?
Then take a look at this
http://darkforestgroup.com/starmod/index.php?topic=444.0
link first.
6
« on: October 24, 2010, 01:28:53 PM »
Hi all....just giving the link of the modding guide by me available on the old forum.
darkforestgroup.com/forum/index.php?topic=6755.0

Thanks!
Hi all!

I just found a way to mod our phone and now it supports customized user interface as is in s5230.
The method is basically translated by me in English from www.sgh.ru.

Things you need:-

1. New firmware s5560XEJD1 (http://samsung-servicemanuals.ru/page-1006.html)
2. Multiloader (http://www.megaupload.com/?d=OWE4ON1X)
3. Patch files (http://www.megaupload.com/?d=IKER9OLF)
4. Gadget.swf (http://www.megaupload.com/?d=O8KQTURL)
5. Menu.swf (not found working till now though!!!)
6. Fonts (check s5230 board or when you patched go to patch menu and deselect Font patch)



BEWARE! Flashing can be dangerous. It could brick your phone. So, be careful.





Steps:-
1. Download and install the firmware given above. (You can use Darkforest Flash guide linked here: http://darkforestgroup.com/archives/51)

2. After flashing download the patch files and Gadget.swf uploaded with the post.

3. Now connect your phone with the computer in the Media Player profile.

4. Open My Computer and select GT-s5560 and open the folder Phone Memory.

5. Now create a foldet Res and copy Gadget.swf you downloaded from this post.

6. Now run the multiloader and select BRCM2133


7. Then in Amss select the file *.bin and in Rsrc2 *.rc2 that you will find in Patch File folder.


8. Now connect the phone to computer in PC studio mode. Multiloader will determine the available ports.


9. Click on the Port Search until there is a single port with the inscription: Ready


10. Then again, we see that all the checkboxes are properly installed (basically, they are reset when searching for port), if not, then put them into place! Now when everything is installed, click: Download and look forward to download. After that, the phone automatically restarts.



11. After restarting the phone you can see what you have changed. Enjoy!!!



------

Important Tips

------

1. To put the phone in dwonload mode (for flashing) use key combination Vol Down+End Key+Lock Key
2. After patching, to open the patch menu hold key combination End Key+Lock Key until the phone rebootes in patch menu. For going up and down use Volume keys, for entering the menu use Camera key and for saving the options use Lock Key.
3. Do not unselect Master Patch in patch menu as it is used for running other patches.
4. Details of the features in the patch:

i) Change SWF - Changes the way Desktop, Main Menu and My files looks.

ii) PowerSaveMod - Removes the restrictions on the use of phone features in economy mode (low battery).

iii) VideoSizeLarge - The phone can play video resolution of 400x240.

iv) VibOnCall - At the time of making outgoing calls when connected the phone gives a single vibration so that no you don't need to look at the screen.

v) Font - The patch changes the Font folder location on the Media / Res / Font. To install a font, copy it 2 times with the names: Cool50_Dial.ttf and CoolM_EUCJK.ttf

Pages: [1]
Chat